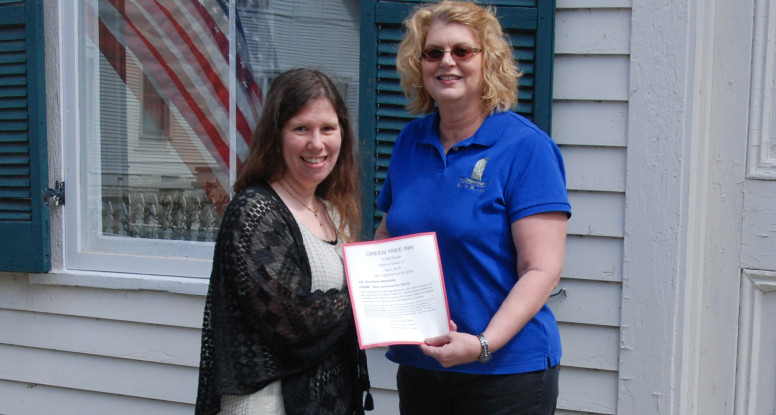 A Lucky Winner of A Free Night's Stay
Congratulations to Christine Samoore who won a Free Night's stay at Green Tree Inn. Christine was the winner of The Elsah Village Category in the annual Elsah Museum Photography contest with her photograph, "Renmant View" which features the Gatehouse at the entrance into the village framed by the Ice House Ruins. The above picture shows Christine accepting her Green Tree Inn gift certificate in front of the Village Museum. Gary and I are proud to partner with the Village of Elsah and the Museum committee to help promote the Annual Village Museum Photography Contest. Jeff Vaughn was the winner of the surrounding area with his photo: "Bluff Top View". There were a total of 41 entries this year. Thank you to each photographer that participated in this annual event. The theme for this years contest was "Right Sized Elsah". All entries will be on display at the Village Museum until August 7, 2016. The museum is free and open from 1 p.m. to 4:00 p.m. every Saturday and Sunday. Guests at the Green Tree Inn are offered a private tour of the museum during their stay. A special thank you to the judge Erica Popp, professional artist and adjunct professor of photography at St. Louis Community College at Florissant Valley.
This is an annual event so it is never to early to start thinking about the 2017 event. Next year's theme and all contest rules will be posted on www.elsahevents.com. Don't miss the opportunity to win a Free Night's Stay at Green Tree Inn and participate in this annual event. Even if you don't win, you have a great excuse to stroll the Village looking for that perfect picture. Good Luck!