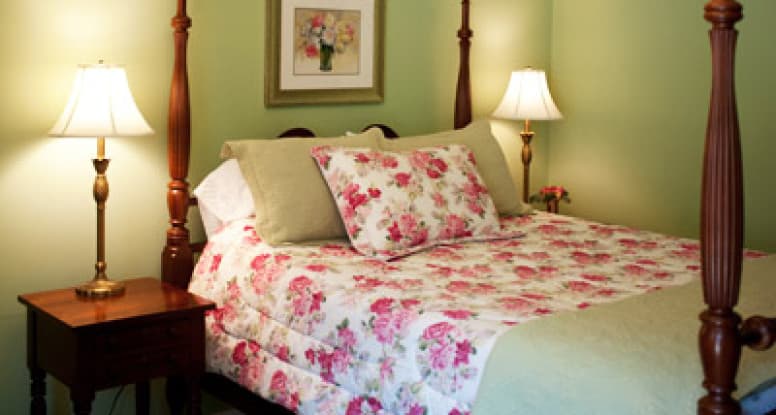 A weekend in the life of an Innkeeper:
Thursday evening – the entire Inn is clean. All laundry is clean, folded and put away.  Homemade cookies are baked and on the table waiting for guests.
9:30 P.M. – Guest start arriving. Still trying to get an exact count on how many to expect for breakfast.  Visit with guests and get everyone settled in for the evening.
Friday
5:30 A.M. – Alarm goes off. Breakfast needs to be prepared for 17 and ready to serve at 8:00 A.M.
8:00 A.M. – Breakfast of fresh fruit with yogurt, wake up casserole, homemade blueberry sour cream bread is served, along with numerous pots of coffee.  Three of our guests are children, so a batch of homemade pancakes and sausage links are included for the kids to eat.
11:30 A.M. – Kitchen is cleaned, floor mopped, dining room cleaned and 1st of 4 loads of dishes is in the dishwasher. Go to start washer only to realize there is NO POWER in the utility room. Gary is an electrician (Thank goodness) so he starts working on the problem.
12:00 Noon – Start cleaning rooms for guests that have requested early check in.
1:30 P.M. – Finish cleaning room and return to kitchen to find Gary has the electrical panel open in the kitchen.  Our guests have the kitchen counter covered with lunch making food and snacks. The kitchen, dining room, great room is full of guests and their family preparing to attend wedding.
Make coffee, get lint brush, zip dress for mother of the groom, generally visit and take care of guests until they leave for wedding.
4:00 P.M. – Clean additional room, change sheets and new towels for 3rd room. Re-clean dining room, start dishwasher again, start washer.  Bake cookies.
5:30 P.M. – take power nap
6:00 P.M.  – clean other guest room.  Also work on loading and unloading dishwasher, washer and dryer.
9:00 P.M. – Find recipes for tomorrow mornings breakfast.
Fall into bed.
Saturday:
5:30 A.M. – Alarm goes off. Breakfast needs to be prepared for 8 people.
8:00 A.M. – Breakfast is ready to be served. Today we are serving Blueberry/Pineapple/Oatmeal pancakes, sausage links and fresh fruit and yogurt.  After the 8 folks are served, 5 additional family members arrive for breakfast.
9:00 A.M. – Frantically make food for additional 5 people. Serve additional breakfast and visit with guests. Start dishwasher.
11:00 A.M. – Guests leave. Clean kitchen and dining room. Start washer and dryer. Start cleaning guest rooms. Four new couples are checking in later this afternoon.
The rest of the day is spent checking in guests, answering the phone with additional reservations, loading and unloading the dishwasher, washer and dryer and finishing cleaning and preparing the rooms for the new guests.
8:00 P.M. – Sit down to relax and think about the breakfast menu.
Sunday:
5:30 A.M. – Alarm goes off. Breakfast needs to be prepared for 9 folks. One couple has requested breakfast at 8:00 a.m. The remaining guests have requested breakfast at 9:30. I don't want to hold the foods from the 8:00 breakfast for over one hour so 2 different breakfasts are needed.
8:00 A.M. – Serve first couple breakfast of Eggs in a Basket, Peach/Blueberry upside down pancakes with fresh fruit and yogurt.
9:30 A.M. – Breakfast of hash brown quiche filled with fresh vegetables, Canadian bacon; blueberry sour cream bread and fresh fruit and yogurt  is served to remaining 7 guests. Then I get a chance to sit and visit with our guests!!
11:00 A.M. Guests check out and cleaning of kitchen, dining room and dishes begin.
1:00 P.M. – Take a nap
We take the evening off to have dinner with our daughter and granddaughter. Then it is off to Kohl's to get a new vacuum cleaner, and some additional items needed for the Inn.
For some folks, this may not sound like fun. But now that I have had an opportunity to be an Innkeeper, I can't imagine going back to work in an office setting. I'm not going to lie, being an Innkeeper is hard work and some days are long. But when you get to be part of a family making memories, meet new people, and see someone's smile when they are served a delicious breakfast, it is all worthwhile. Nothing makes me happier than seeing families and guests making themselves at home and enjoying the Inn.
I feel very blessed to be living out my dream of being an Innkeeper. Being an Innkeeper is all and more than I thought it would be. I look forward to the day when the Inn is financially successful enough that Gary can quit his job as an electrician and be with me at the Inn all week.
If you haven't joined us yet as a guest, we hope to see you soon so you can make some great memories with us at Green Tree Inn.