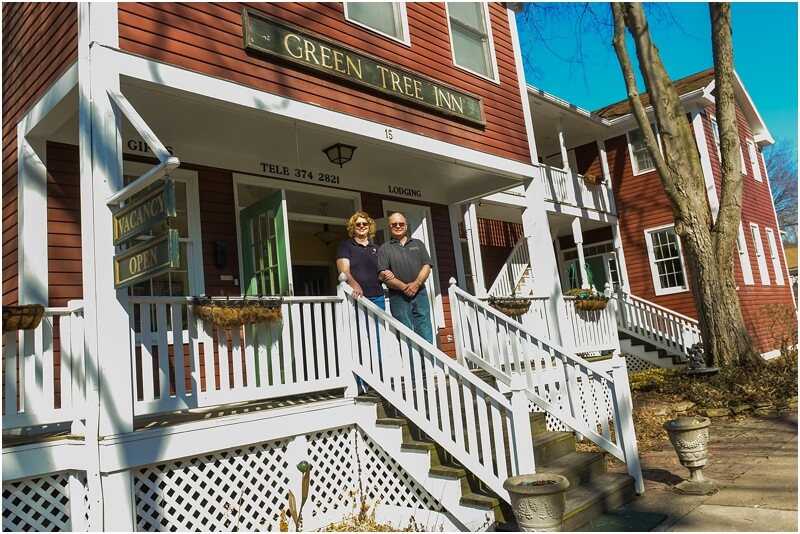 Why should I choose to stay at a Bed and Breakfast instead of a Guest House or a Motel/Hotel?
There are many reasons to choose a Bed and Breakfast including the added value. At Green Tree Inn you will find outstanding customer service and individualized attention.  We want each guest to feel special.  Upon check in, you will be greeted and provided a tour of the Inn including the common area, kitchen, your private guest room as well as our gardens.
All our guests have access to the common area which is stocked with water, soda, tea and coffee which is available at no additional cost.  The common area has a fireplace, board games, and a variety of CD's are available for guests to enjoy.  Guests also have access to a full kitchen including a stove, microwave and fridge.  Homemade sweet treats are provided each afternoon.  A full home cooked gourmet breakfast is served each morning in the common area.  At check in, any food allergies and dislikes will be discussed along with your choice of breakfast time.
Each guest room has its own private bathroom with a shower/tub combo.  Each room has its own private entrance, TV with Direct TV, heater/air conditioner (so you can control your own air temperature) and Free Wi-Fi.  Free parking is provided along with free use of bicycles.
You can have as much or as little interaction with other guests and the host as you prefer.  Gary and I live on-site in a separate building.  So, we are always available but guests have their own space.  Most Bed and Breakfast are owned by couples who live on-site. So, staying at a Bed and Breakfast also supports small business owners, which is especially important during these challenging times of the Covid Pandemic.
We are also happy to provide recommendation on restaurants, things to see and do in the area as well as local history.  Each of our guests are offered a private tour of our Elsah museum.
So, if you are looking for more than a place to lay your head, you should choose a Bed and Breakfast.  Not only will you receive personalized customer service but the art of conversation will be practiced over breakfast.  In today's fast paced world, a Bed and Breakfast is the perfect place to slow down and connect with your special someone.  Excellent home cooking is just an added bonus.
We would love to have you come and experience Green Tree Inn and the quaint Village of Elsah.  We love seeing guests have their first B&B experience.  We like to think we are converting guests to regular B&B goers once guest at a time.  Gary and I will look forward to meeting you soon.